Until recently, the choice of CMS (Content Management System) was not easy, because there were many similar free solutions on the market that could be boldly implemented on the pages. However, over time, it turned out that WordPress is growing into the leading platform for creating simple in use and technologically complex websites.
How popular are WordPress websites?
Currently, WordPress is the most popular website management platform. Currently, more than half of the websites around the world are based on WordPress, which perfectly demonstrates the potential of this platform and how strong its community is. Popularity directly translates into dynamic system development. The authors regularly publish new versions of WordPress, provide security updates, and plug-in manufacturers ensure that they are completely secure.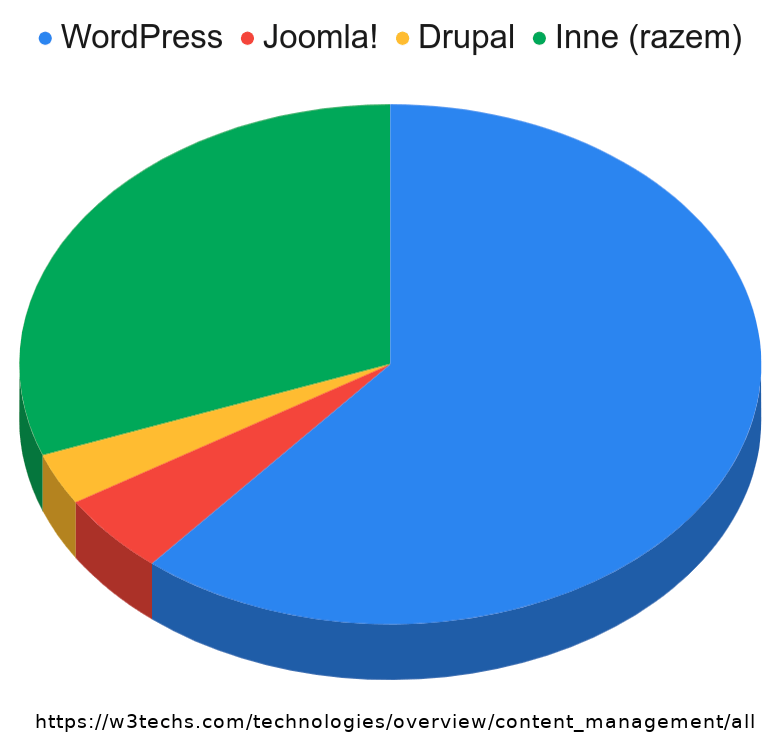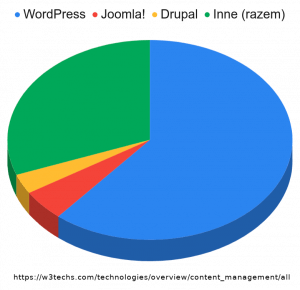 WordPress is often used by blog creators. About 24 entries are published per second.
WordPress is the most popular content management system for company websites.
25% of pages from the first million of the most popular sites were based on WordPress (data for February 2017)
Myths about WordPress
There are many myths around the system that are not really precise generalities or are simply not true. It is worth taking a closer look before deciding to build your own site.
1 WordPress is only suitable for blogs!
This statement is completely and irrevocably false. This platform can be easily adapted for almost any purpose. Most popular applications such as a company website or a simple online store do not require programming knowledge, but the experience gained while working with CMS.
2 All WordPress websites look the same!
Of course, in the free themes database there are many that look identical or very similar. Professionally made websites based on WordPress are usually prepared on the basis of varied paid motifs or built from scratch based on their own ideas.
3 I'll do anything on WordPress
Absolutely not! WordPress is not suitable for creating, e.g. an email system or a game. This platform will not be useful for such applications.
4 You need to know PHP / HTML to use WordPress
This is absolutely not true. You do not need to know any programming language to enter any information update. WordPress has a built-in graphic editor that allows you to easily add new text, graphics, or movies. Also, expanding the site with popular functionalities is most often possible without the need for programming, using ready-made modules.
5 WordPress is poorly secured
It depends on the user and the administrator. As long as you correctly configure and apply the security guidelines and regularly install the latest versions of the platform – you can be calm. However, you should remember that after updating WordPress, errors may appear resulting from the author's code of the page. That is why it is worth using the help of professionals.
6 WordPress is inefficient
This is another myth! WordPress is an efficient platform, but it is easy to slow down by installing inefficient plugins or poor quality templates. Fortunately, there are many great and ready-made tools that solve this problem (such as cache, minification, or integration with the CDN service). However, you need to be able to put them into practice.
7 WordPress is an Open Source product and nobody is responsible for it
This is true. The WordPress platform is available for free, but Automattic is responsible for development. CMS is constantly being developed.
Interesting fact:
Over 30 million comments are published on websites based on WordPress within 30 days.
8 Unused plugins do not need to be updated
Very wrong reasoning. Even if WordPress does not currently use the function (plug-in), it must be updated anyway. If the plug-in is not used, it is recommended to remove it.
9 All plug-ins and templates are secure
Unfortunately, this is also not a true statement. Choosing a safe and good quality template is crucial. As a rule, the prices of commercial solutions are reasonable. We know from experience that if the quality of the code has been verified and it is visually attractive to the buyer, it is certainly worth the amount that the author wishes. The choice of the template and appropriate plugins should be guided by experience.
ManageIT specialists will ensure that your website works quickly and reliably. As a result of many years of experience, we know how to build an attractive and efficient website, secure it, and develop it. We always reach for the best and safe tools
Is WordPress secure?
It is certainly a very secure system, but unfortunately inept use of it can lead to infection. It will not be a hacker attack aimed only at you. These are automated attacks on all sites that will have a specific vulnerability. This was the case, e.g. in 2018 when the WordPress installation screen appeared instead of company websites. The Duplicator plug-in was to blame. However, you don't have to go back a year, and you only need a few weeks. In May 2019, it turned out that WP Live Chat Support had an error. Hackers used it to automatically set up redirection to websites infected with malware.
But take it easy! These are isolated cases. WordPress platform can be safely considered one of the safest. The system is currently being developed. Virtually every day there is a new security update, and all plug-ins and templates before they appear in the official database are thoroughly checked. The community around WordPress is very extensive, which is an undoubted advantage of this solution. This is probably the greatest power of this platform because it is the community that makes WordPress a secure system.
By working with ManageIT you can be sure that your website will be constantly updated and protected against attacks. Every day we check that your site has all the current security! We only install tested plugins and add-ons! If necessary, we implement our own solutions to suit your needs!
Why WordPress websites are the best solution?
First of all, it is currently the most popular solution used all over the world. But the reason for such a huge interest should not be surprising. Everyone can use the WordPress platform. You do not need to buy a license or pay a subscription.
In addition, new functionalities, contrary to appearances, does not have to involve spending a huge amount of money on programming them. It is almost certain that what you want on your site has already been developed by someone else and there will be a plugin waiting in the WordPress database. Only installation and configuration is required. These costs are much lower!
The use of WordPress has another important advantage. At any time, a software company can improve your website without huge financial outlays, because they already know this popular CMS. The situation is different when the company uses proprietary CMS, in which case the transfer of website maintenance to a new programming service provider is difficult and may involve higher costs.
Your site based on WordPress was created by another company and has no contact with it? ManageIT specialists are perfectly familiar with the WordPress system!
Source:
jaworowi.cz/37-zadziwiajacych-statystyk-o-wordpress-na-2017-rok-5491.php
wpzen.pl/15-mitow-na-temat-wordpressa/